August 2012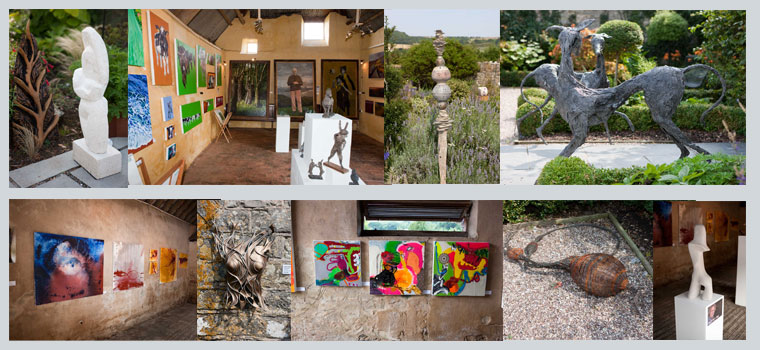 Binham Grange Summer Exhibition
11th August to 2nd September
The fourth Binham Grange Summer Art Exhibition will be showcasing an exciting collection of original work including sculpture, paintings, ceramics, jewellery, portrait painting and prints from a very talented group of South West artists.
The exhibition will be held in the buildings and grounds around the historic Binham Grange, a unique Jacobean house of great antiquity, offering good food and luxury accommodation. Binham Grange is located in Old Cleeve just off the A39, on the road from Old Cleeve to Blue Anchor.
Different artists will be will be available each day to talk about their work. A series of short workshops will be running during the exhibition. These include painting, sculpture, jewellery and other crafts. More details are available on the workshops page.
Visitors can also enjoy morning coffees, lunches and afternoon teas at the Grange Restaurant or take some time to relax in the landscaped gardens
The exhibition will run from the 11th of August to the 2nd of September and is open daily from 10.30am to 5pm. Entry to the exhibition and parking are both free.
This year the artists will include:
Doula Aebli - Ceramics / Diane Burnell - Painting / Leo Davey - Painting & Illustration / Fiona Campbell - Sculpture / Fon Cosens - Willow Work / Melanie Deegan - Sculpture / Sara Dudman - Painting / Bea Hammond - Painting / Maynard Hales - Wood Sculpture / Tracey Hatton - Drawing & Painting / Alison Jacobs - Painting / Renee Kilburn - Ceramic Work / Jim Munnion - Painting & Printmaking / Penny Price - Jewellery / Kerry Tremlett - Printmaking / Jan Tricker - Painting / Nic Wingate - Photography / Ben Yates - Photography
For venue information please visit www.binhamgrange.co.uk